Did you see us in Country Style Magazine?
Updated: Aug 12, 2021
DAY DREAM BELIEVERS
We are still pinching ourselves with our feature in their June 2021 issue.
Country Style Magazine Cover June 2021
Download the full article here or read it below.
Country Style Magazine_TRH Article
.pdf
Download PDF • 6.96MB
When dreaming of running a luxury bed & breakfast in regional country Victoria, you spend a lot of time reading one magazine. The one that encapsulates the daydream and ethos of what you are trying to achieve. A moment lived in idyllic country charm walking through golden-hued paddocks in a plaid linen dress with your farm dog at your side. Ending the day at the family table heavy with rustic food platters and bush roses. You know we are talking Country Style Magazine.
We are still pinching ourselves with our feature in their June 2021 issue. The joy experienced seeing The Ridge House in glorious colour is encapsulated by our early morning run to the newsagent to grab a dozen or so copies before they were even on the shelf!
Our dream started in 2017 when we bought this 50-acre bushland property to live in whilst we worked on building Green Hills Farm. After 2 years of sleeping on camp beds and practical 'gap-filling and lifting tiles' school-holiday programs (our kids have still not forgiven us), we had created a home that we craved to spend time in. Afternoons spent around the fireplace, an endless game of monopoly, whipping up nectarine cake from fruit picked from the tree outside. We knew we had to share this country-style life. The Ridge House was born.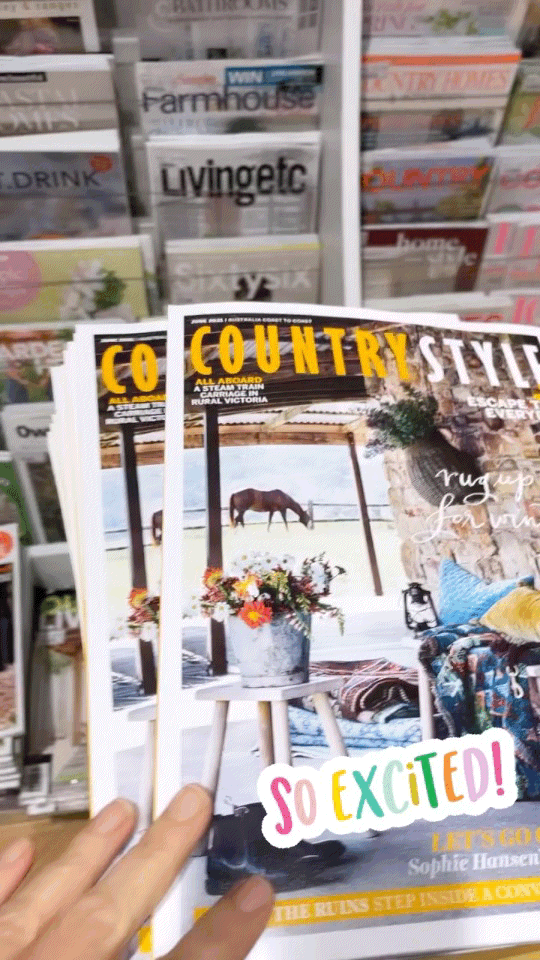 First in line at our local newsagent to nab first copies
Four years down the track and our dream is now our everyday life. We are over the moon that is captured so beautifully by the talented eye of Marnie Hawson's photography and Belle Hemming's (Belle Bright Project) exquisite styling. Ceri David's words encapsulate our passion for creating a cosy luxe and welcoming space that connects to the landscape so well. It all came together to make the most beautiful article well worth a read - with a cuppa and a slice of nectarine cake of course.
We really are 'Day Dream Believers. We love hosting and sharing this magical part of Gippsland (West Gippsland) with others who love to escape and dream. If you have questions or feedback on the article, please drop us an email. If you are keen to stay and experience the country charm and hospitality for yourself, you can book via Airbnb and Riparide.